Dental Veneers in Ashburn VA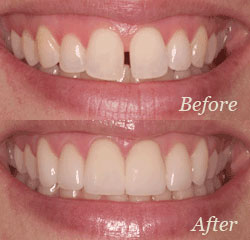 You no longer need to hide your smile because of gaps, chips, stains, or misshapen teeth. With veneers, you can easily correct your teeth's imperfections to help you have a more confident, beautiful smile. Veneers are natural in appearance and are a perfect option for patients wanting to make minor adjustments to the look and feel of their smile.
Veneers are thin, custom-made shells made from tooth-colored materials (such as porcelain) designed to cover the front side of your teeth. To prepare for veneers, your doctor will create a unique model of your teeth. This model is sent to a dental technician who creates your veneers. Before placing your new veneer, your doctor may need to conservatively prepare your tooth to achieve the desired aesthetic result.
When your veneers are placed, you'll be pleased to see that they look like your natural teeth. While veneers are stain-resistant, your doctor may recommend that you avoid coffee, tea, red wine, and tobacco to maintain the beauty of your new smile.
Contact our Ashburn dental office and make an appointment. We are here to help: (703) 729-6222
IMPLANTS PLACED LAST YEAR
Visiting Esthetique Dentistry was probably the best experience I have had with a dental practice ever. You can tell that they pay attention to detail and take time to ensure a holistic view of your dental health is considered. I would recommend the practice to anyone.
After moving to the area I needed to find a dentist to do some extensive work – my wife and I found Esthetique Dentistry and we could not be happier. The staff is polite professional and understanding. Everything is clearly explained, questions are invited and answered, and most importantly patient comfort is a priority.
I have a dentist phobia but everyone at Esthetique made me feel so welcome and at home. From the awesome staff at the front desk, Diana in customer service, the dental assistants and hygienists and finally to Dr. Talwar – my experience could not have been better. The office is clean, state of the art.